Tallahassee Grapple Trucks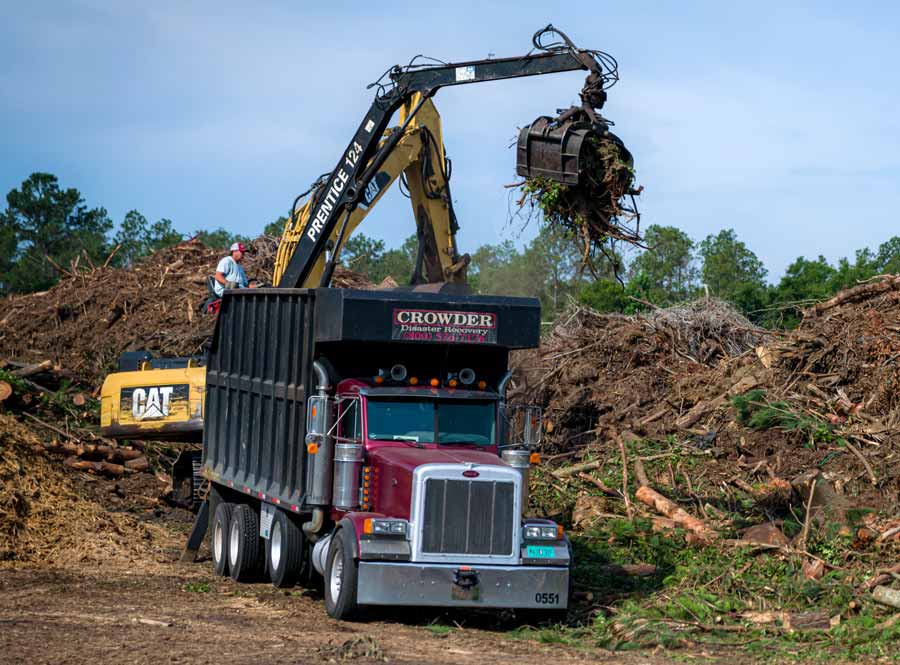 Grapple trucks are large trucks with a knuckle boom crane attachment. Unlike stiff booms, a knuckle boom crane has a joint in the middle, allowing it to fold and have greater movement flexibility.
Different types of mechanical claws or jaws can be placed at the end of the knuckle boom crane. This claw attachment allows grapple trucks to grab and lift heavy objects onto the truck bed.
Although rear loaders and front loaders perform a similar hauling function as grapple trucks, they are not equipped or designed to safely collect and haul larger waste items and debris.
When you need a grapple truck service, think Crowder!​
Crowder Excavating offers a wide range of excavation and trucking services, including grapple truck services.
Avoid piles of dirt, trees, and other debris sitting for days or weeks on your property or project site. Call us today for immediate grapple truck rental service in Tallahassee.
Our fleet of grapple trucks have a sizable 60-cubic yard truck bed that can comfortably store and haul huge loads. Best of all, contracting our team and hiring our grapple trucks reduces the risk of injury due to heavy loads and potentially hazardous waste.
Grapple Trucks Makes The Job Easier
Tallahassee grapple truck services make bulk waste and debris collection go more smoothly.
Using grapple trucks makes any clean up operation much safer and more efficient.
Construction and demolition
Construction sites often yield an excessive amount of waste and huge pieces of debris. Having a grapple truck on site allows the workers to continue working safely while all heavy and unwieldy materials are cleared out.
Grapple trucks are indispensable during excavation work. The trucks enable the excavators to clear the dug up dirt and stone quickly and effectively.
For tree cutting and tree maintenance, grapple trucks are used to clear trunks or logs, stumps, branches, and other large debris from fallen trees. With a scoop-type debris grapple, the trucks can also efficiently clear leaves and smaller branches from the ground.
Large scale trash and disaster cleanup
Heavy-duty grapple trucks are frequently used by local municipalities for large-scale trash cleanups and scrap collection. Grapple trucks are particularly useful for post-storm or disaster cleanup.
Grapple Trucks in Tallahassee for Personal Use
Commercial companies and businesses are not the only ones that benefit from grapple truck hauling services.
A grapple truck service in Tallahassee can also help you and your family during extensive spring or summer cleaning. The flexible crane and claw attachment of your rental grapple truck can collect bulky furniture and items, such as:
Old or discarded furniture, like bed frames, dining tables, and shelves
Large appliances, such as ovens, dishwashers, and washing machines
Bathroom fixtures, including sinks, bath tubs, and toilets
Construction debris, like drywall, insulation, and roofing materials
Downed trees and poles, particularly after natural disasters like storms
Bulk waste and debris comes in various forms and sizes. As it cannot always be segregated into neat categories, having a flexible grapple truck helps ensure complete waste removal.
Crowder Excavating has the experience and expertise in operating heavy-duty trucks and machinery. Trust our team to take care of all your grapple hauling needs.
Our Tallahassee grapple truck fleet are ready to service your business or construction site at any day of the week. We have over 10 grapple trucks ready for work. Please take note that waste and debris load must be accessible from the road.