Tallahassee Land Clearing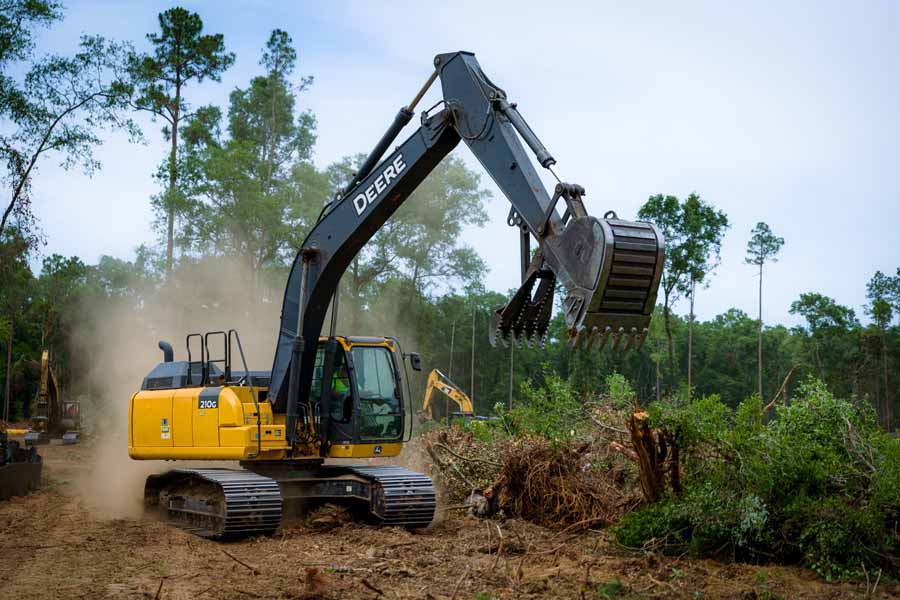 Land clearing is a crucial step when preparing for site construction
When a piece of land is filled with dead plants or debris, it may pose various threats and hazards to your property and the surrounding neighborhood. Land clearing services can help you eliminate this danger.
At Jimmie Crowder Excavating and Land Clearing, we make land more accessible and usable for any construction endeavor. Our land clearing and excavation services can help enhance the looks of your property and increase its value.
No project is too big or too small for us. We perform every job well to guarantee our clients' satisfaction. This makes us one of the largest Tallahassee land clearing companies.
Get in touch with our professionals at Jimmie Crowder Excavating and Land Clearing. We would love to hear from you and partner with you to clear your land.
What Land Clearing Services Can Do for Your Property
Land clearing is fundamental to any residential or commercial project. When choosing a contractor for your project, it is best to work with a professional land clearing company with the right knowledge and experience.
They should know the best processes, methods, and techniques to complete land clearing without damaging the ecosystem. Jimmie Crowder Excavating and Land Clearing provide an environmentally friendly solution for your property.
What Our Land Clearing Services Can Do For You and Your Property
We have a strong commitment to quality work performed in a timely manner.  Trust Jimmie Crowder to:
Enhance the Growth of Trees and Plants
Land clearing services help with the healthy growth of trees and plants on your land. A plot crowded with vegetation decreases the likelihood of plants surviving on it. Invasive plants, like weeds or vines, can steal nutrients and water from the trees on your land.
When the land is cleared, there is more room for plants or trees to grow. They also have better access to sunlight, nutrients, and water.
As the trees and plants on your land grow stronger and healthier, your property will look its best and become more profitable.
Building any kind of property requires safe and stable ground. To do this, you need to remove the obstructions first. Weeds and other undesirable plant growth can contribute to soil erosion.
Land clearing does not only help with the growth of the plants; it also improves the health of the soil. When the land is cleared, the soil is redistributed evenly to prevent erosion from causing damage to the property later on.
Promote Healthier Environment
Unattended lands crowded with plants and trees provide natural shelter for pests, which increases their population. The increased risk of pest infestation can cause damage to your property. Clearing the land is recommended to eliminate the chances of nesting.
Rotten and dead wood from old stumps or fallen trees can also breed diseases. These diseases may infect other healthy plants and spread through the land and onto neighboring properties.
Overgrown lands with unwanted debris can also attract termites and similar infestations. They can severely damage the long-term health, appearance, and profitability of the land. Land clearing is an environmentally friendly solution to ensure a healthier property.
When land is overgrown and cluttered, there is a much higher risk of fire. The thick undergrowth, dead plants, and rotting tree stumps can make the start and spread of a wildfire more likely. It threatens the surrounding areas, potentially leading to loss of life.
A fire can also bring extreme damage to your property, which decreases the value of the land. To prevent these threats from occurring, clearing bushes and debris should be done to protect the structures on your property. It is a crucial aspect of any fire safety plan.
Top Excavation and Land Clearing Contractors
No matter what your land clearing or excavation needs are, Jimmie Crowder Excavating and Land Clearing can get the job done efficiently. We started as a one-man, one-truck operation tree clearing business in 1962 and have grown into one of the top Tallahassee excavation companies.
Our expertise is built on successful time-management skills, high-quality results that stay within your budget, and superior safety measures — all of which are implemented to ensure that every single client we work with is left completely satisfied.
We don't just guarantee work that exceeds expectations. We are also proud to be both fully insured and licensed. Crowder operates with some of the highest technology available in the Southeast. Furthermore, our services are completely environmentally friendly, ensuring that you get the best service without risking harm to the environment.
No matter what your excavation needs may be, Jimmie Crowder can get the job done for you. We have the experience and equipment to take on any project, big or small. Our local knowledge ensures that we can help you accomplish your goals with the least amount of disturbance to the environment. 
Our expertise of timely, in-budget performance and safety records continues to build a long list of satisfied clients, including individuals, universities, municipalities, and private sectors.