Tallahassee Yard Waste Removal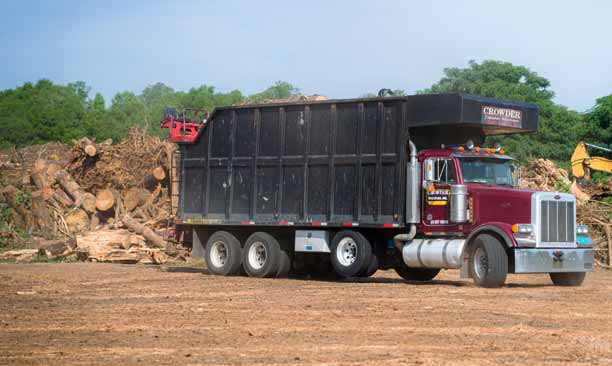 Improper yard maintenance poses very serious risks for you and your family.
Neglecting yard upkeep is a common household problem. With everyone at home busy with work, keeping the house tidy, or keeping up with the kids, it's no wonder many homeowners forget about their yards.
However, improper yard maintenance poses very serious risks for you and your family. That's why it's crucial to clean up your yard regularly
After clearing up your yard, it is important to properly dispose of all your vegetative and tree waste.
Crowder Excavating provides vegetative trash and tree waste removal services for Tallahassee residents.
All About Yard and Tree Waste Removal
Yard waste is any debris and/or trash that comes from the trees and vegetation in your backyard and front lawn. These trash and debris are often left behind from garden landscaping. Examples of yard waste include grass clippings, branches, twigs, leaves, and mulch.
Vegetative trash is also referred to as green waste or biological waste. These waste materials can be used to make organic compost or natural fertilizers.
Dispose of Yard Waste Correctly
Keeping your backyard and front lawn clean generates a lot of organic or biological waste. Unless you're going to turn all of that into compost, you need to look into vegetative trash removal services in your area.
Not all garbage collection services take in yard and tree waste. Even if they do, the amount of waste you create from fixing up your yard can potentially clog up the dumpster you share with your neighbors.
It is best to first check with your neighborhood or municipality's garbage pickup service and find out if they offer yard waste collection.
Crowder Excavating offers tree waste removal services in Tallahassee. We can take care of both regular yard waste and bulk yard waste.
Our Tallahassee debris removal team uses heavy-duty trucks to ensure we can take in and haul all of your accumulated yard waste.
At Crowder Excavating, we provide professional and consistent tree waste removal services for both residential homes and commercial properties. Our team has years of experience in driving heavy-duty trucks and operating complicated machinery, including grapple arms and debris shredders.
Let's Get Your Project Finished
With our 60-cubic yard trucks, one truck often has more than enough space to load and haul all your vegetative waste. If any of you have large trees and logs among your yard waste, our massive debris shredder can easily turn them into mulch for more convenient transport.
Moreover, we have a whole fleet at your disposal for large-scale yard cleanups and excavation.